An emerging brand turned market leader. Beginners dared to act boldly. A simple product made into culture.
Before there ever was Chimi, a will to create colorful eyewear knocked on Nineties' door. Today, six years later, that will has transformed into a world of its own. From brand strategy and visual narrative to marketing campaigns, e-com, and store experiences, Nineties have been Chimi's creative agency since the first letters of the name were spelled out on a piece of paper.
Except from becoming one of the foremost eyewear brands in Sweden, Chimi has gotten to travel far beyond the country's borders – enjoying a sunny backseat ride with Elsa Hosk in LA, being accompanied by a Mühlrad symphony in Xavier Corbero's home in Barcelona and even following Christer Fuglesang (the first Swedish astronaut) to Mars (well… almost). To constantly evolve has always been the mission.
And the tale of Chimi, the emerging eyewear brand turned market leader, began right here – at the Nineties Studio HQ.
When the founder of a new eyewear brand asked Nineties to come up with a name to the business – we already knew that there's much more to a brand than just its name. Instead of searching the internet for the latest aesthetics and new trends to create a logo, we started by looking inwards. What did we want the brand to communicate? Which tales could a brand, that just had begun their journey, tell the world?
We wanted the brand to be more than just eyewear. We wanted our strategy to create a culture.
Instantly, it was important for us to come up with a branding that people would be able to associate with and relate to, a feel-good brand, yet at the same time create something out of the ordinary that would make the customers wonder "What will happen next?".
Early on in the project, Nineties were given free rein to be as quirky and odd as we wanted to be. Through this we could be reckless in our communication, act as market leaders, and choose to not be scared of failing – but instead see it as a way of evolving. This, we soon realized, became lethal for Chimi's growth.
It made us eager to be experimental from the beginning, and we've probably tried the most by now. It goes without saying that this was a branding strategy created to be at the forefront of the industry.
That feeling of recklessness and a go-ahead spirit has been the cornerstone of each project surrounding Chimi. From marketing campaigns, e-commerce and packaging to the creation of their Stockholm flagship store, offline experiences and creative capsule collections, nothing has been achieved by taking the easy road.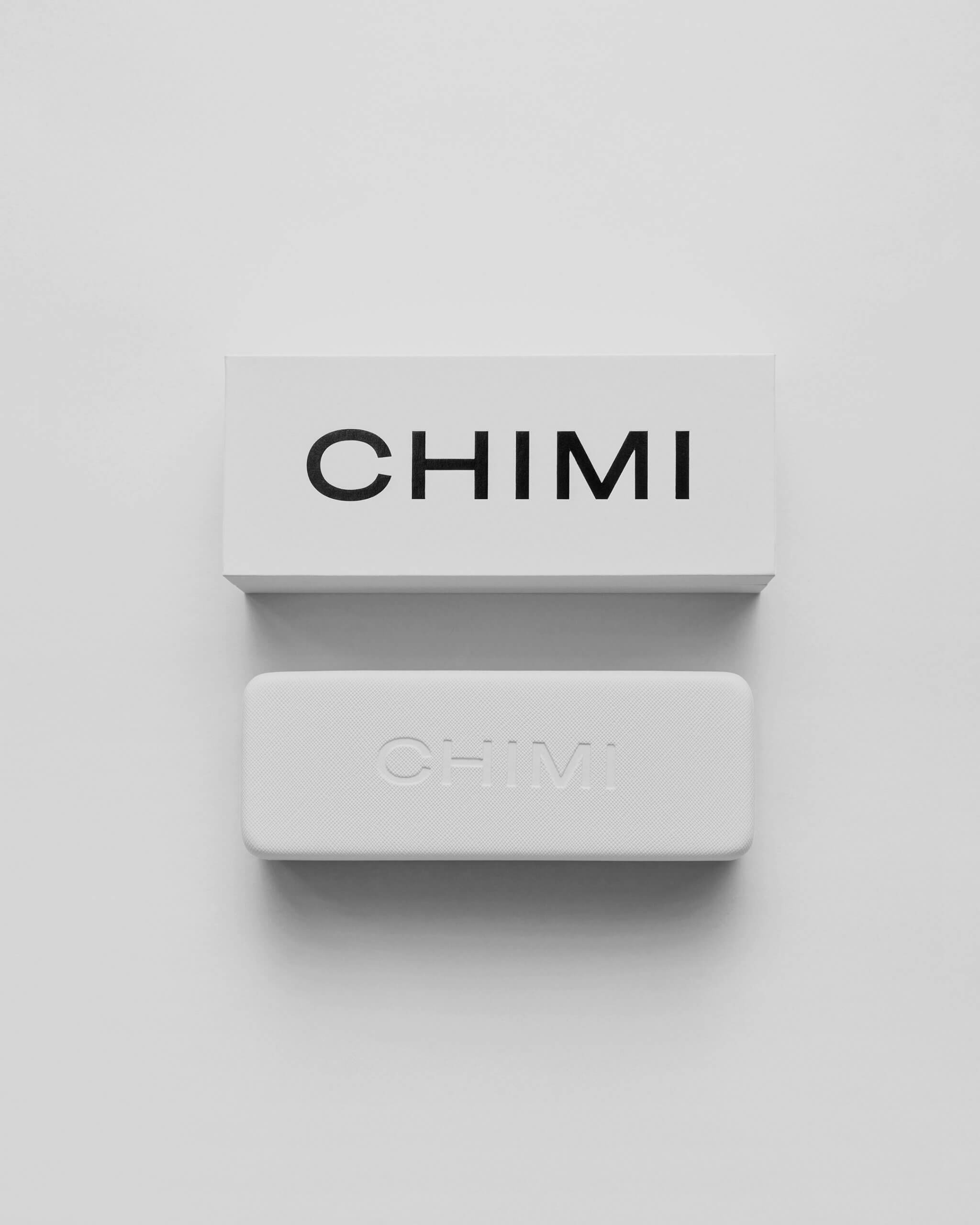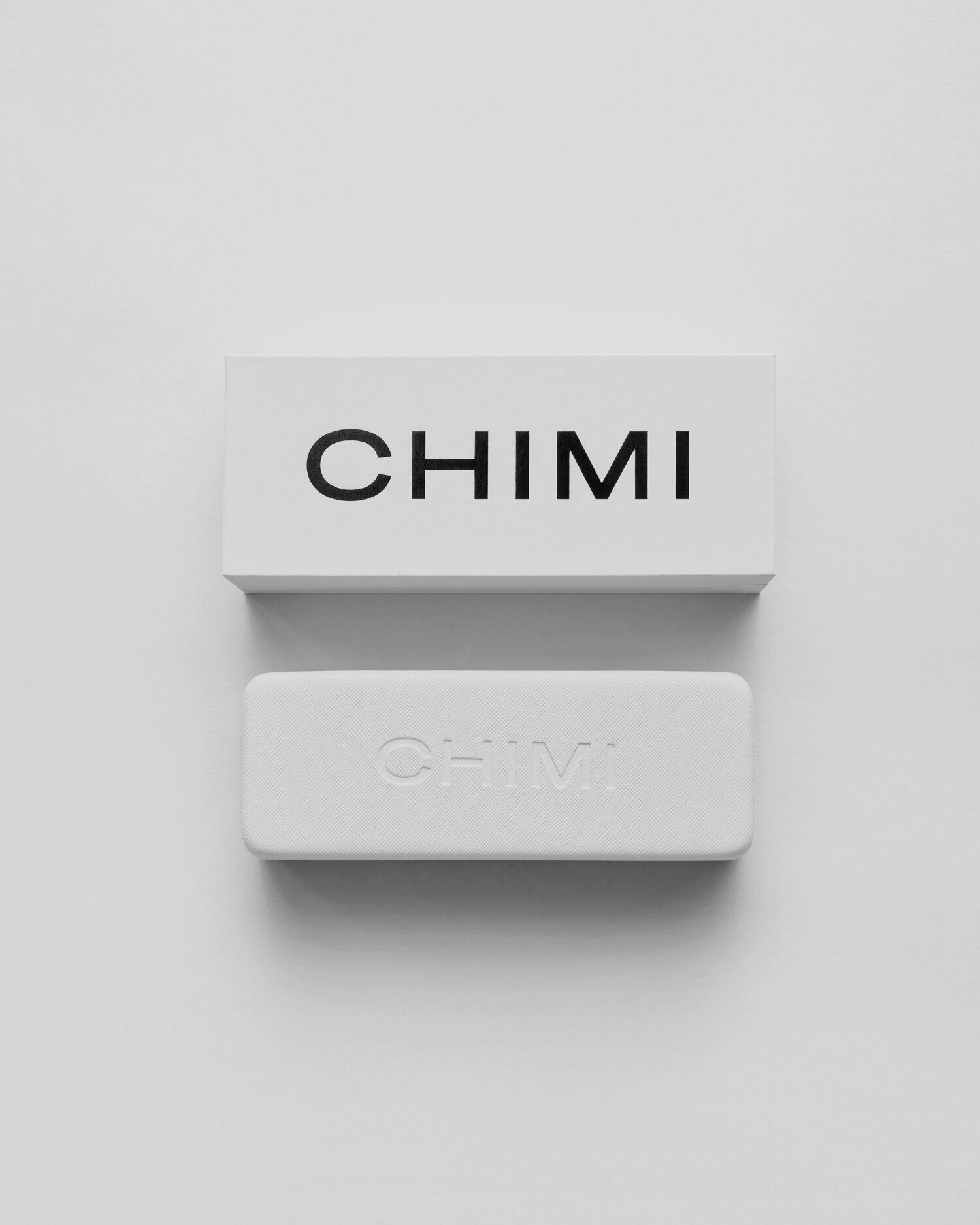 LOGOTYPE – A graphic element that could work just as good in a streetwear store as on the high-end luxury streets – that's where we wanted to place the Chimi logotype. We chose to keep the logo attractive to a wide range of customers and contexts to make sure we wouldn't get held back by it or get caught in one lane only. The feeling of the brand is therefore not trapped in the logo itself – it's portrayed in all things surrounding it, creating the world of Chimi piece by piece.
E-COMMERCE – When it was time to develop Chimi's first store ever, online, we had to find smart solutions. The brand started off with six glasses that fast grew into over 300 products – we had to be on our toes. Even though the quantity expanded, we wanted to make sure that the online experience was just as smooth as we wanted it to be. To do this, we created the customized UX design of our dreams: ultra-fast, extra smart, optimization at its finest. We wanted to challenge what an online store could be. For a while, it was constant work, but in the end, we couldn't have been happier about the result.
Over the years, Nineties have been the advisor surrounding all things tech regarding Chimi, taking the development lead.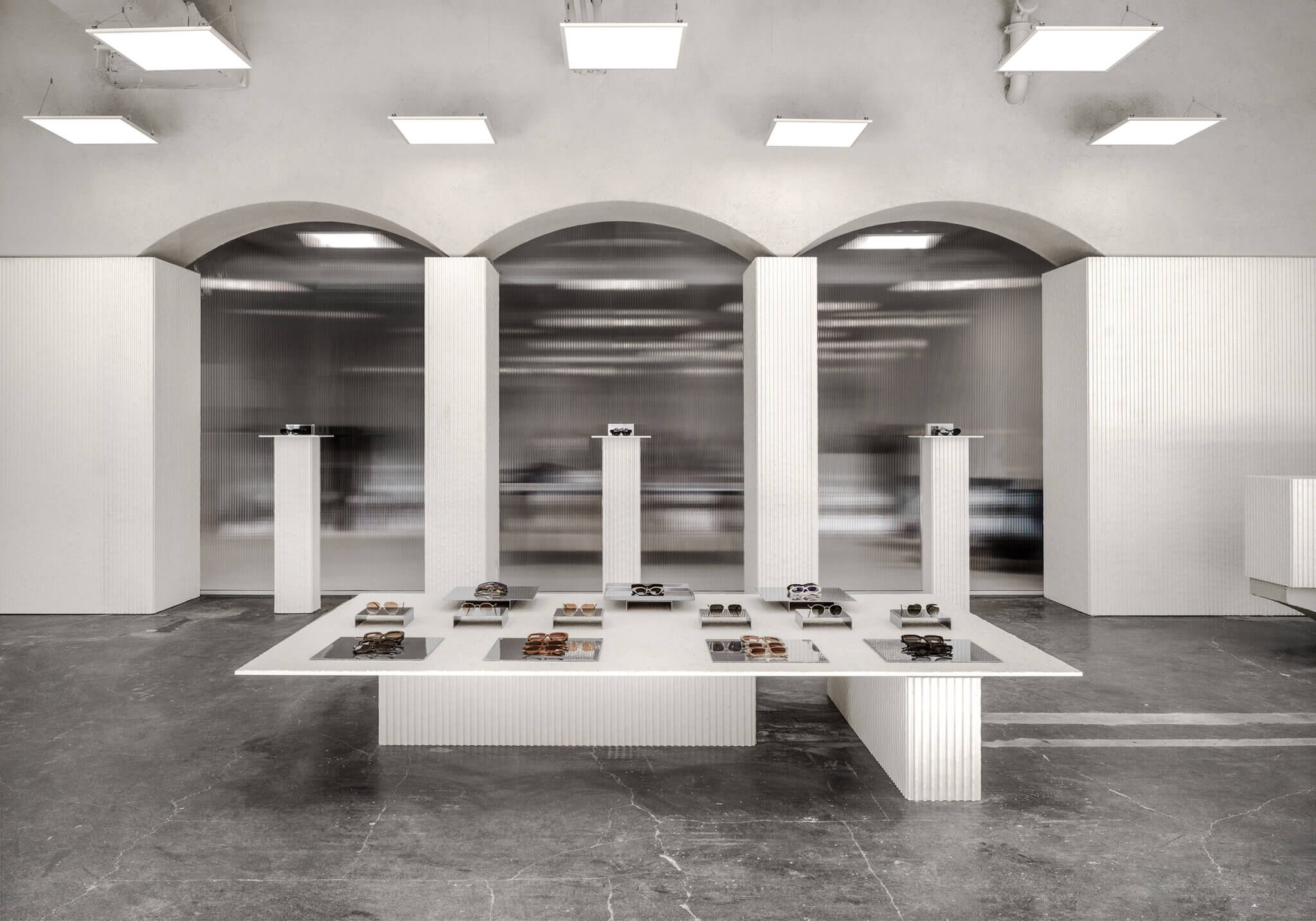 The flagship store in Stockholm on Kungsgatan 6 was all about inviting people to the world of Chimi. Since the brand had gotten such high online presence, we knew that the offline experience had to be at least as strong.
As we started sketching the concept of the store, the Chimi world got translated into a modern temple where minimalism met selected, sourced material. We worked closely with inspiring architects to reach the ultimate result.
It was important to us that the brand identity, to act as market leaders, was shown in the store. Every wall and each piece of the entire store was made in Sweden, carved by hand to get the look and feel that we searched for.
The flagship store also laid the foundation for Chimi's global pop-up concept, with customized additions.
CAMPAIGNS, COLLECTIONS AND COLLABORATIONS – have been the core of Chimi – except for the eyewear, of course. From small studios in Stockholm and La Muralla Roja in Spain to 3D art with Kalles Kaviar and sunglasses approved by Christer Fuglesang, it's surely been a journey.
Regarding Chimi's own collections, we wanted the brand to get away from seasonal updates. Therefore we came up with their Core Collection – a group of glasses with the goal to stay, throughout the years, to make the brand (and the eyewear) more persistent.
For the Capsule collections and Collaborations, the goal has always been to reach out further. It was important to us that each drop had its own identity, especially surrounding a collaboration. Each and every collaboration got its own packaging.
For the sunglasses that were filmed with Christer Fuglesang (the first astronaut of Sweden), we created a pin with the Chimi logo morphed into the Nasa logo. When Chimi made a collaboration with Kalles Kaviar, each customer got a customized butter knife together with their glasses. The Swedish supermodel Elsa Hosk got her own lyrics when Mwuana wrote new lines to his hit song Craftmanship for the campaign video. The list goes on and on.
The meaning of each campaign has always been to expand and evolve.
The Chi in Chimi. To show Chimi's inner energy, and highlight the fashion feel of the brand.
Fuglesang. Chimi got their glasses approved by Sweden's first astronaut.
A hommage to Kalles Kaviar. Chimi x Kalles was a collaboration between two Swedish brands, both searching and exploring fields in different worlds such as luxury and everyday life.
The Chimi Symphony. To showcase the mature core of Chimi, with an international and cultural approach.
Just Right. The Swedish supermodel Elsa Hosk gave Chimi a personal touch.
PACKAGING – "Unbox slowly for maximum experience". We added that sentence on the Chimi eyewear packaging because, for us, the feeling of a brand should be reflected in everything surrounding it. Since most of Chimi's purchases are made by customers online, we wanted to make sure that the premium touch of the brand didn't get lost on the way from the order button to the customer's doorstep. Because of this, we've put lots of focus on the physical experience of Chimi. For one winter collection, for example, we created a puffer eyewear case to aline with the season. 
Lastly – you might wonder how we came up with the name Chimi? Well, we're not quite sure. It's either from chimichurri sauce or the deep-fried burrito chimichanga. Either way, people seemed to enjoy it as much as we did.